If you are in the medical business and you're interested in EHR system development, you probably spend more time finding information in a variety of disconnected systems your company uses than you do with your patients. And, luckily, you're in the right place to learn about the essentials of EHR. In this article, we'll gently guide you through EHR system benefits, its features, challenges, stages of development, and other crucial aspects that might interest you.
Ready to start? Let's go!
Advantages of Electronic Health Record Systems
Why would your medical business need an EHR system at all? The answer lies in numerous benefits offered to companies that have adopted such a solution. Let's start with pointing out those that become available for healthcare professionals and then proceed with EHR system benefits for patients.
EHR System Benefits for Healthcare Providers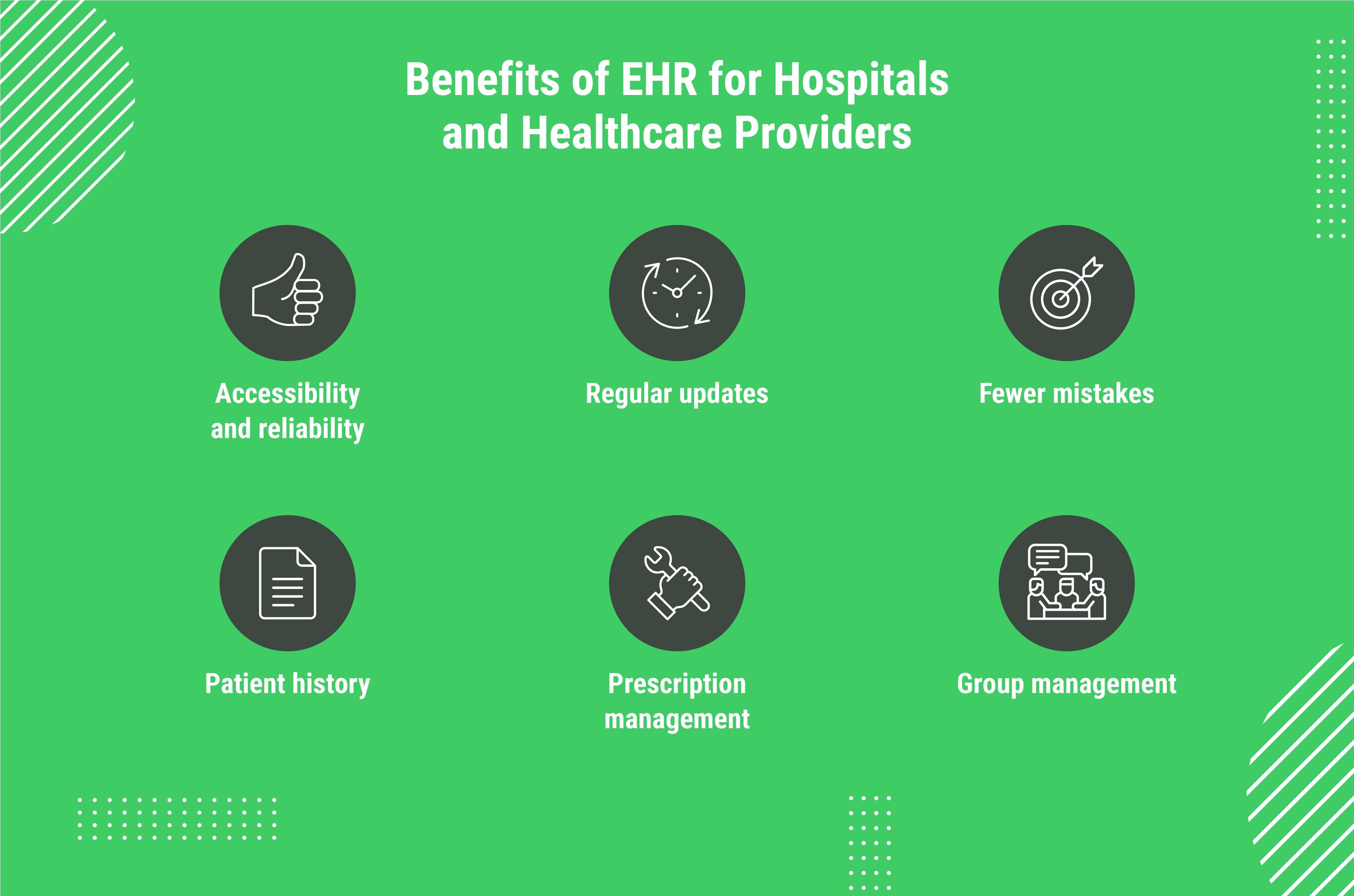 In addition to extended accessibility of the system (from anywhere, at any time), there's also a possibility for a backup in case something goes wrong. So, health records are always safe and can be restored if something happens.

Regular updates ensure more efficient management, also allowing you to inform your patients ASAP on any issues.

Before health records went digital, there were numerous cases of mistakes related to handwritten data and its interpretation. With EHR, you automatically eliminate this issue and, also, always know or can easily find out who's responsible for certain procedure, manipulation, prescription, etc.

With EHR, you always have all information about your patients and their history at hand, which makes treatment more accurate, fast, and effective.

When it comes to prescription management, there's no better solution than EHR, as it allows you to efficiently add or remove drugs right in the system.

If there's a need, a practitioner of any other healthcare specialist can create groups of patients, manage and customize them. For example, it's a good case for some medical research.
EHR System Benefits for Patients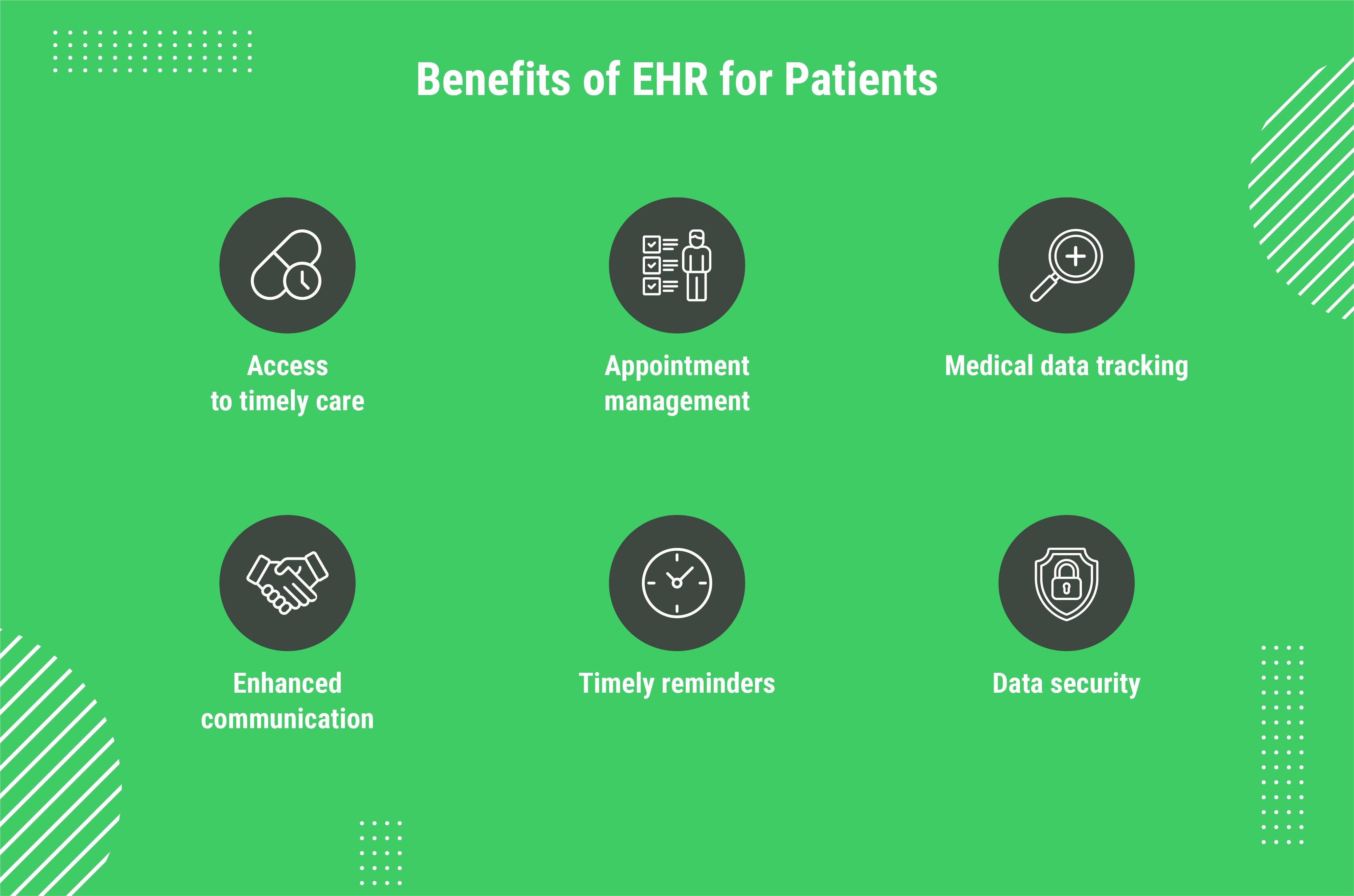 Patients can enjoy access to medical care 24/7, which means that they can receive timely care and have fewer chances to develop complications.

Appointment scheduling with EHR becomes easier than ever. And with a system of notifications, patients are always reminded of the scheduled appointments and don't miss them.

A patient can always go to a personal profile to see all the prescriptions, doctors' notes, lab results, etc.

Patients often look for answers to their questions, and having a solution that allows chatting with a doctor lets them get expert help with ease, which increases their trust in your business and enhances their experience.

It is possible to set reminders for appointments, bills, medication intakes, etc, so your patients can feel like they are in good hands.

Because EHR systems store data in the cloud, it can't be damaged or lost.
For sure, these are not all benefits you can reap, and the list can be continued with respect to the features of your system. And this is exactly the point of further discussion.
What Are Some of EHR Features?
EHR systems are not equal. Some of them share just some basic features, while some are enhanced with richer functionality. Still, this does not mean that a basic solution is worse than a having-everything-in-one-place system. To be exact, if EHR is a new solution to your company, it's always better to start with a basic functionality and then gradually enhance it with features and functions your users really want and need.
So what are EHR must-have features, and which can be postponed to be developed later? To answer this question, let's look at what makes an EHR's MVP (minimum valuable product), and then point out some optional features for you to consider.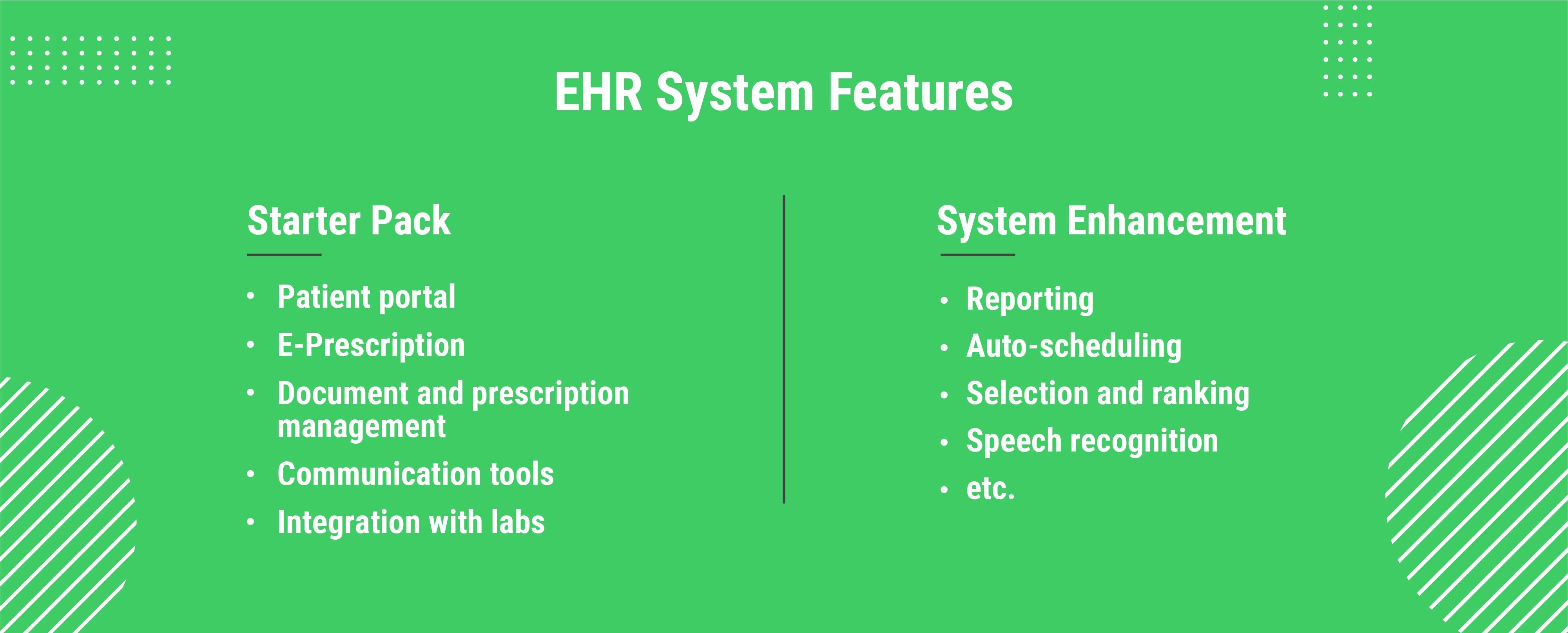 While the starter pack is a must, features for system enhancement have a more custom nature. But why would you need to customize your EHR system? Let's find out.
EHR Challenges and How to Address Them with Customization
Let's put it straight: EHR systems are designed to facilitate the work of medical personnel. Still, statistics show that 56% of doctors don't see EHR as a solution that helps. To be exact, they believe that its impact is exactly the opposite. But, at the same time, most doctors believe in the beneficial potential of EHR in case some improvements are made to the systems.
So, if you are thinking about EHR development, you must know about the challenges these systems are facing to meet them, in this way ensuring that you provide your staff with the software that really makes a difference. So here are the key deficiencies doctors notice in EHR systems.

Now, let's look at each of these issues in more detail and see how the development of a custom EHR system can minimize the possibility for their occurrence.
EHR Systems Take a Lot of Time
More than a half of the patient's visit time is dedicated to EHR. To be exact, on average, a doctor spends about 8 minutes during the visit and about 11 minutes after in the system. And when it comes to first-year doctors, nearly a half of their working time is spent in EHR. This data is borrowed from a survey by the Physicians Foundation, and it shows that the key benefit of the system — the facilitation of work — is missed.
Why develop a custom EHR?
It's exactly customization that allows you to ensure that your system is easy to understand, shares exactly those features and functions that let your users quickly get the work done, and is consistent in all aspects. When it comes to features, you can consider speech recognition that will allow doctors to pronounce words that need to be typed or found instead of doing this work manually.
EHR Does Not Help with Clinical Tasks
According to a report created by Stanford Medicine, nearly half of doctors (44%) see EHR as a system for data storage only.
Why develop a custom EHR?
To give your system a value and take it beyond data storage, you have to add some useful features that will be demanded among its users, whether we are talking about mobile accessibility, report generation, analytics, built-in billing options, etc.
Work Inefficiency Due to Poor UI of EHR
The above-mentioned survey by Stanford Medicine states that 72% of doctors want to see improvements in EHR's interfaces.
Why develop a custom EHR?
When you develop software together with UI/UX professionals capable of building custom designs, you can be sure that your system will be easy to navigate and pleasant to an eye — and these are crucial aspects that leave your users satisfied.
EHR Interoperability Issues
To be efficient and increase the productivity of work, doctors want an EHR system to allow easy data sharing with other healthcare professionals. But interoperability issues are still common, and 67% of doctors see them as a key issue to address.
Why develop a custom EHR?
If you build a custom EHR system, you can always request an option that will allow your personnel to share data with labs, pharmacies, and other representatives of the healthcare industry you work with. Just make sure that your system has defined roles and permission levels for data-sharing, take security measures (HIPAA compliance, etc.), and don't forget to make it scalable.
EHR System Development: Key Steps
Now, when you have created a picture of what an EHR system is, know its benefits and pitfalls, let's dive into the development process. Generally, it involves 5 stages.

If your system development is in the hands of a technology partner, all these steps can be covered by its expertise. However, we provide you with some tips that can help you better understand the process and give you a taste of the value and result of each development stage.
Idea Validation
To make sure that your idea is valid and the delivered solution will be tailor-made, it has to be carefully analysed in terms of potential and probability.
The best solutions are always those addressing pain points of users. These could be inconvenient forms that require a lot of time and effort to be filled, or some problems in doctor-patient communication. Whatever is the issue, it first needs to be discovered and only then addressed.
Discovery & Prototyping
After the issues your users are facing are discovered, you can build a list of essentials to your solution. When it's done, you can decide on a technology stack and receive some estimation for your project.
To give you a better understanding of your future solution, the provider will build its prototype. And here is the best time for you to think if everything is considered to make changes to the product before your team starts the development.
Design & Development
At the development stage, your technology partner will work on a front-end and back-end of your system, as well as establish all the required integrations and compliance with HIPAA and other regulations. This is probably the longest stage after which you get the planned solution.
QA & Testing
Before you launch your product, quality assurance and testing specialists identify bugs and fix them in case there are any. And there's a hidden value of this stage: in addition to receiving a fault-free system, thanks to the work of the testing team, you can also learn about possible ways to enhance it in future.
Maintenance & Support
After your system is launched, it's time to collect feedback from real users and learn how to make it better. For sure, when the launch happens, it's generally in the right time, market, and environment. But as time goes by, things change. So, to remain competitive and prove your strong position on the market, development should not stop.
System maintenance and support services can help you ensure that your EHR is up-to-date, perfectly meets the needs of your users, and satisfies them with pleasant experience.
Cost of EHR Systems Development
A EHR cost (at least some fixed one) is probably one of the questions that always remain unanswered, and for good reasons. The thing is that there are too many variables that affect the price of development, starting from your tech partner rates to the complexity of the system you need, technologies chosen for its development, and a number of platforms it has to cover. So it's literally impossible to calculate an average price.
But still, there's always a way, and believe us, it's the easiest one — to contact your provider directly, discuss your idea, and ask for an estimate. First of all, it's free. And, as a bonus, this simple action will allow you to understand if you are on the same page with a chosen development company.