How to choose the most efficient engagement model to lay a solid foundation for the successful project delivery? Emerline will tell you about the available options, highlight which one works best for each particular case, and share the team's approach to technological partnership and other engagement scenarios.
What is an Engagement Model?
The customer success journey starts with the right engagement model they choose for business relationships with the software development partner. Depending on the project size, duration, concept, and strategy, clients agree on an optimal IT engagement model with their service provider.
A project engagement model is a plan that describes the specifics of collaboration between a customer and a vendor during the project development.
Engagement models specify the way specialists are engaged in the project, areas of responsibility, payment terms, timelines, management issues, etc.
There is no multipurpose engagement model for software development to suit any project and satisfy all customers' demands — its choice depends on the project specifics and client's software development partnership preferences.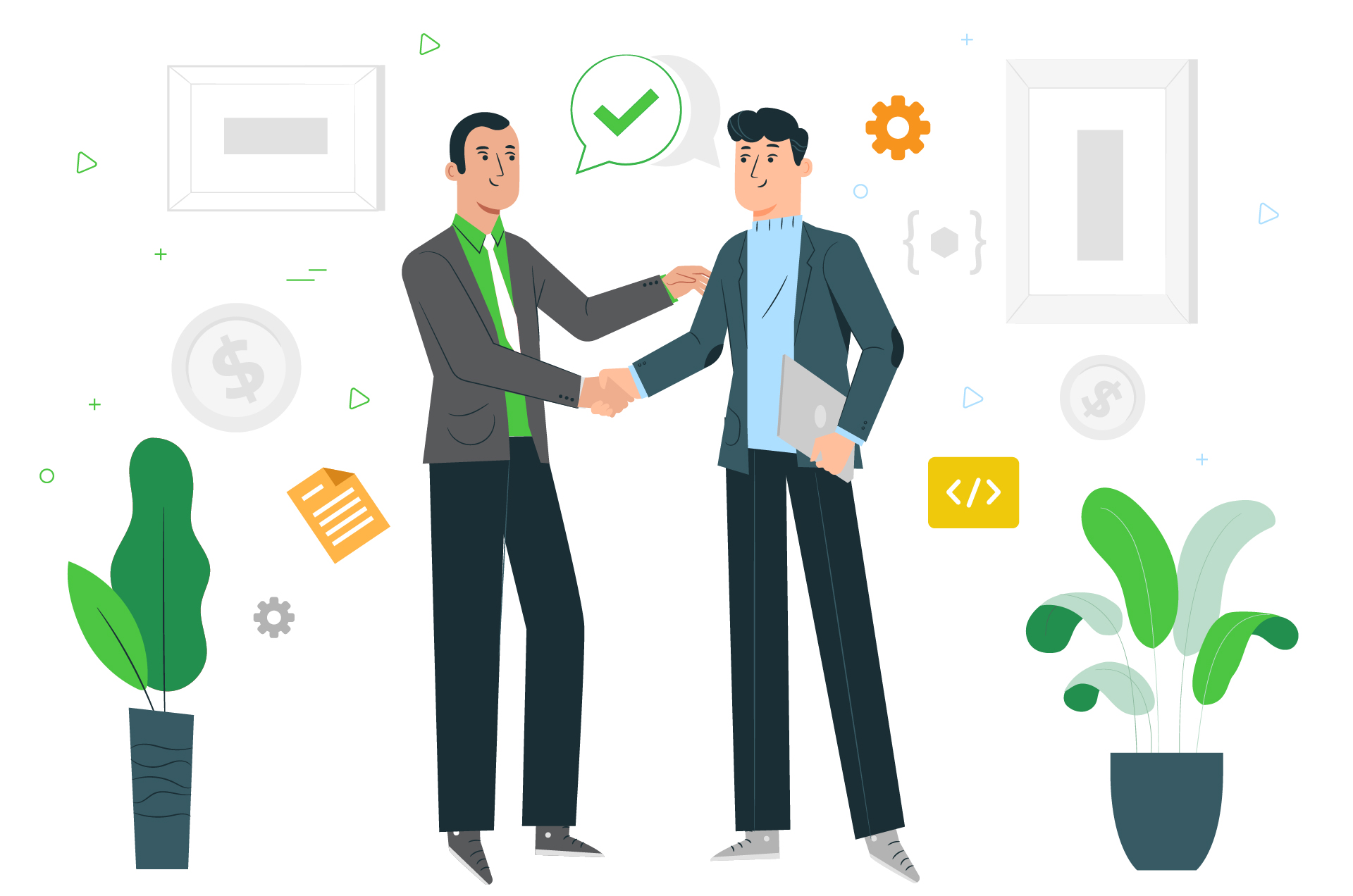 4 Engagement Models for Customer Success
There are a number of IT engagement model examples — each one is characterized by a particular working mode, pricing terms and conditions, and the vendor team's project engagement. Let's explore the most popular engagement model scenarios and mark their distinctive features.

Dedicated Team

This IT engagement model implies that a service provider offers their specialists to a customer based on the required skills, competencies, and tech stack.
Clients share precise info on what they expect from the software product or service; how many professionals are requested for working on the project; and which technological preferences they have.
The more comprehensive these entry points are, the more efficient and well-matched embedded resources the software development provider suggests.
It's up to the customer to choose special aspects of this engagement model's project management and define whether they will manage the dedicated team themselves or involve a project manager from the vendor's side. As a rule, embedded resources work alongside in-house specialists, interact with the internal team, and augment it, while being located on the premises of the service provider's office.
The focus is on high quality delivery.
A pricing model is simple and directly linked to the dedicated team's size and hourly rates of each specialist involved. In other words, mind monthly salaries and extra costs (service provider's fee, administrative needs, and so on), as this will make up the billing.
Outstaffing Model

Have a lack of qualified Java developers or quality assurance specialists for your project? Need to find Node.js professionals, as your product idea dictates the usage of this tech?
All these and other requests are covered with the help of resource staffing.
Outstaffing suppliers carefully clarify the needs of clients and give them the resources who have proven expertise in the requested fields, industries, or technologies.
Among the other IT engagement models, outstaffing is notable for personnel management that is provided by the client, whereas the companies going in for IT outstaffing services are responsible for staff employment, insurance, taxes, etc.
In some cases, resource staffing means relocation and working onsite, so that the client can take a closer look at each project iteration and monitor all stages of development processes.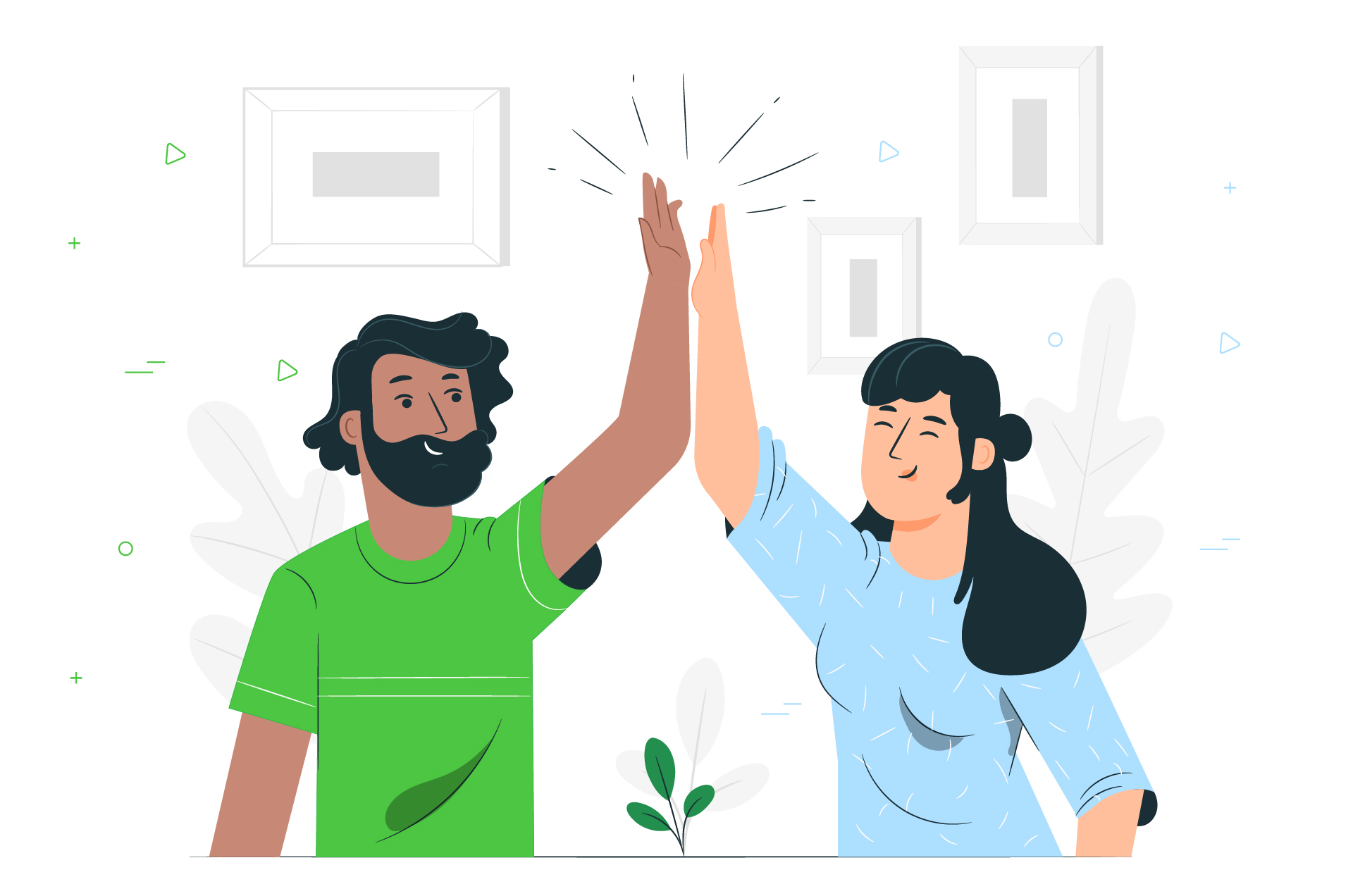 Fixed Bid Project Team

Fixed bid contracts are all about strict terms and conditions. They are based on a precise estimate of what should be done, exact project time frames, and predetermined budgets. So, the name of the engagement model speaks for itself — provided that customers announce a specific price (or at least a price range), a software development outsourcer will be committed to providing a set of services within the agreed bid billing.
In terms of the fixed bid pricing model, both project scope with the clearly defined customer's requirements and price are fixed in the beginning and remain unchanged during the whole project lifecycle.
In case of extra work (new product features, add-ons, or services that haven't been specified before), clients and software development providers tend to make additional contractual agreements.
Technology Partner

It would be inadequate to measure technology partnership with monetary relations or a number of specialists engaged in the development of software solutions.
Technology Partner is a company with a profound experience and a team of experts from different fields, including solution architects, consultants, business analysts, development and quality assurance specialists, designers, security professionals, project managers, and other roles, which is in charge of delivering turnkey solutions.
Responsibility areas of technology partners include building/reviewing solution architecture, software development, advising on optimal tech stack and integration, IT infrastructure analysis, and security/privacy audit. A tech partner is providing quality knowledge sharing if needed — education and training are their standards, too.
Tech partners deal with various engagement scenarios. Even if a customer has just an 'idea on a napkin', without clearly defined requirements or business goals, the right technology partner will help to prove its viability before the successful implementation.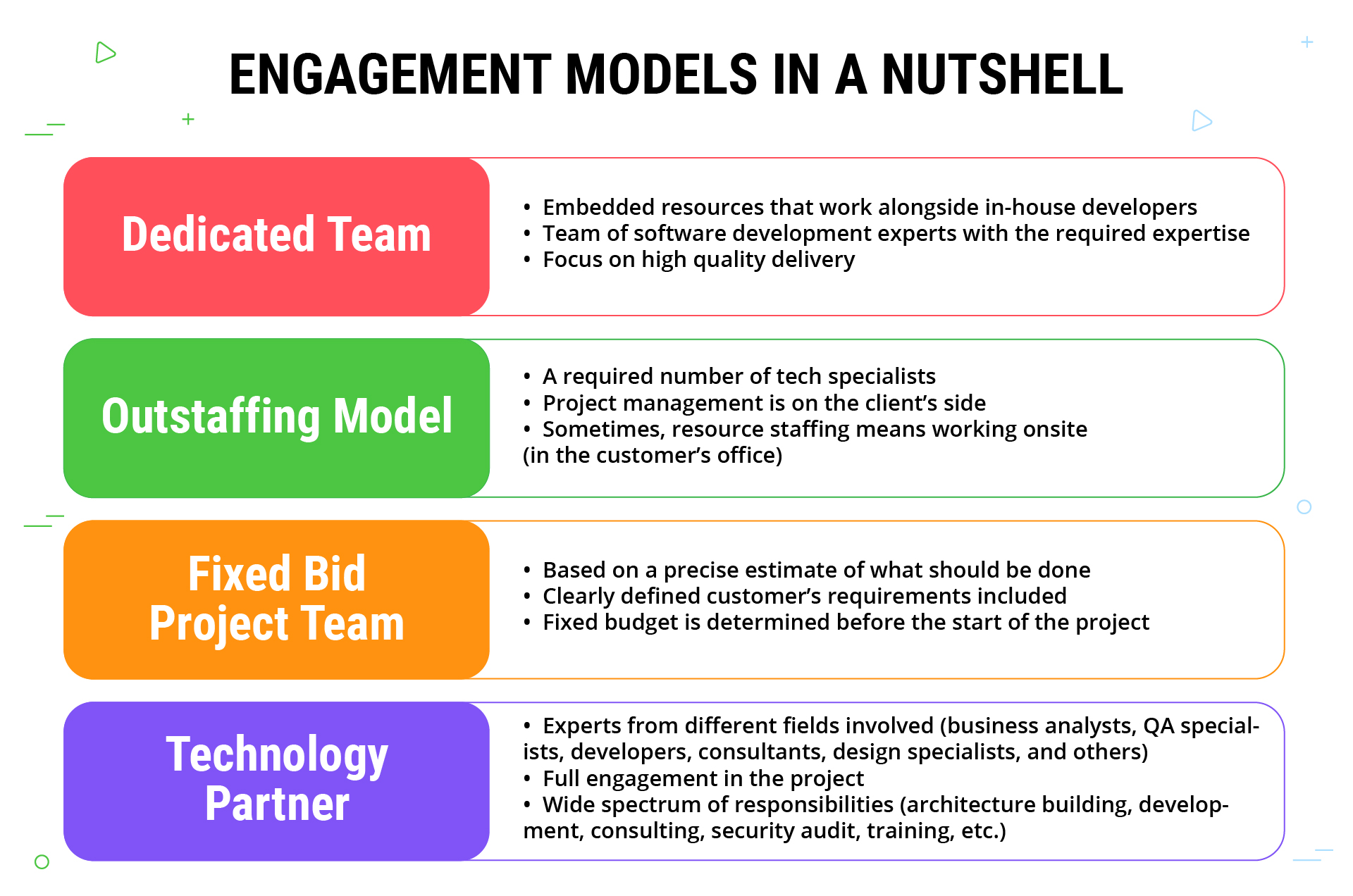 How To Select The Right Engagement Model For Business Software Development?
As each engagement model has its peculiar features and can perfectly suit one project, but become irrelevant for another, here are some correlations between engagement models and project types.
Dedicated Team
It works best when the project scope is large or isn't clearly defined. When the requirements vary and there are high chances they change in the course of the development process, the dedicated team will adapt to the shifts and go on implementing new project features.
Outstaffing
A key factor while taking into account this business engagement model is cost reduction. If the client possesses strong project management competencies and is ready to put much effort into the supervising process, it makes perfect sense to address an outsourcing vendor for developers or QA specialists, for instance.
When a customer has a clear product vision and intends to remain a major business strategy decision maker, while demanding purely technical development or implementation assistance, outstaffing is ideal.
If there is a need to extend your team with the members having specific tech expertise, this engagement model might be a good choice as well.
Fixed Bid
Have a detailed specification of your project that won't be altering in the future? Need to be ready with a software solution in the agreed terms? Launch a small project with a limited set of features and clearly defined requirements?
We'd recommend to consider the fixed bid project team for such scenarios — no extra fees during the project development and predictable deadlines.
Technology Partner
This approach is about the other dimensions of customer engagement and the degree of vendor's contribution.
Technology partners manage the project from the idea to implementation and can cover any business or tech demand, from defining the right product development strategy to conducting training sessions after the solution goes live.
Our Approach to the Engagement Process
Regardless of the engagement models preferred by our customers, Emerline delivers successful projects, while following any of them. Either your request asks for Java development specialists only or needs the profound contribution of our entire expert team, we are glad to help. Below we'll share our key competencies and principles related to the project delivery.
Our team has all core competencies and enough expertise to lead a project from scratch
Well, it's more about technology partnership — while following this engagement model, Emerline explores a vague idea, shares their product vision, and builds a turnkey solution, as we have the key roles to make your product a success. When all of them, from business analysts to design thinking experts, are in one place and make every effort to exceed project expectations and achieve project goals, it will be the best possible outcome.
The versatile tech stack we are experts in allows us to select the right technologies for the project implementation
If Java or .NET would prevent your solution from being as convenient and multifunctional as it could be, we'd suggest you another tech. The idea is that our expertise in a wide technology spectrum allows us to select the right tools, frameworks, or software development kits for product development without being limited to one or two options.
Involve us at any project stage and for any project scale
A from-scratch project or a functioning solution that needs some extra features to add? Both! Emerline joins the projects at any stage required and assists with any scope of work, either completely or partially. Our flexibility relates to the project size as well — we are experienced in working with both startups and huge corporates.