Taking pictures is fun, and with a mobile phone camera always at hand, this pleasant experience is now available at any time. Even if you are far from considering yourself as a photographer, getting beautiful pictures today is easier than ever before thanks to numerous mobile apps that cover the whole process: from a shot to a print.
With the idea of contributing to an even more satisfying photography experience and brilliant results, in this post, we are going to overview three types of apps that can help you get really beautiful pictures: those for taking photos, editing apps, and photo printing apps.
Apps to take better photos
You're not a photographer but want to learn some tips and tricks on how to take great pictures, right? There are apps for that! Below, we've collected 3 useful mobile applications designed to ease your amateur photographer experience.
1. Magic Hour for iOS / Golden Hour for Android
Available on iOS and Android | Free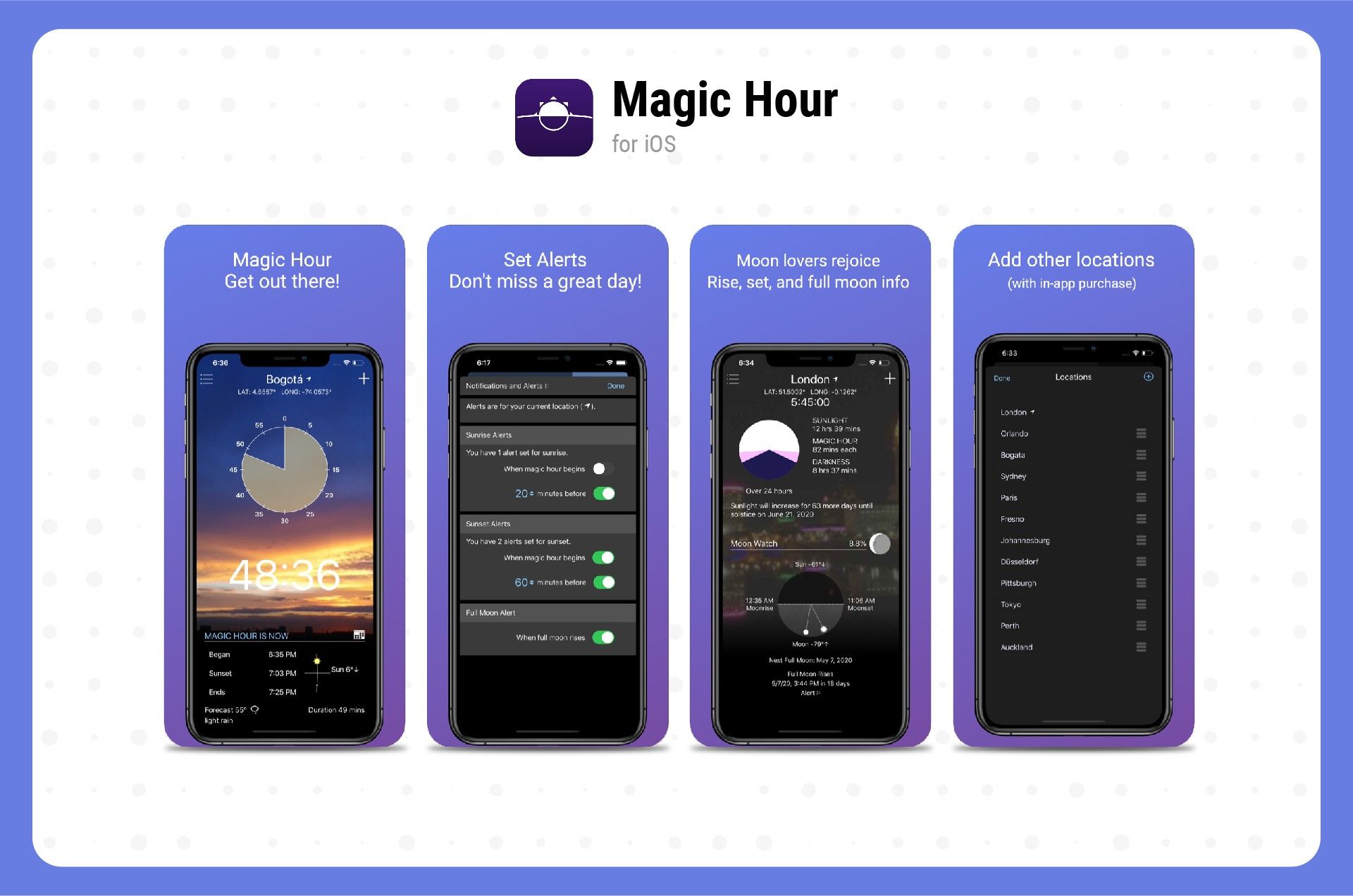 Did you know that there's a perfect time for taking photos when the light is soft and has a beautiful reddish hue? Photographers call it the 'golden' or 'magic' hour that occurs twice a day: right before the sunrise and shortly after the sunset. Knowing when the golden hour arrives allows you not to miss this beautiful time and use it for taking pictures you've always wanted. And there are two great apps for that: the one for iOS and the other for Android. In both cases, you can set reminders and free yourself from keeping a close eye on the time of day.
2. Pocket Light Meter for iOS / Lux Meter for Android
Available on iOS and Android | Free (in-app purchases)
Do you use settings in your smartphone cameras? You better do, because it will allow you to catch the best picture, with good light, in this way minimizing photo editing and ensuring that the original picture is great as it is. But how can you determine what settings to utilize? Apps reading light quality will help you choose the most appropriate ones. Working in the same way traditional light meters do, these applications are easy to use and always at hand. Even though these apps are not free, they significantly simplify the life of both amateur and professional photographers.
3. Cortex Camera
Available on iOS and Android | Paid
Have you ever tried to take a picture at night? How often did it end in total failure? The thing is that night photography requires stabilization that allows creating a clear image, but only those really dedicated to photography have such devices. So how can an ordinary person take a beautiful night photo and is it possible to do it with a mobile phone? The answer is yes.
The night photography app Cortex is designed to create captivating images in low light environments. And with a stabilizer feature, the app takes several pictures in a few seconds to average out the overall image with its duplicates and create a clear night photo.
Best photo editing apps
One of the most demanded features among photography apps is editing. And it's not just about light, saturation, and contrast. The best photo editing apps offer much more than that: from perspective correction and double exposure to texture overlays and a variety of presets. So here are the top 3 professional photo editing apps that share a bunch of really amazing features.
1. Snapseed
Available on iOS and Android | Free
This free photo editing app for iOS and Android users is one of the beloved apps among mobile photographers and for good reasons. First of all, it has an easily understandable, intuitive interface with convenient-to-use controls. The app is not overwhelmed with tons of features, sharing the most demanded ones.
Even though it may seem a bit too minimalistic, Snapseed has everything needed to make your pictures look gorgeous, including a range of HD filters and other tools for editing: healing brush, vignette, glamor glow filters, creative photo frames, textures, grunge, and lighting effects, etc. There are also tools for changing head poses, editing portraits, creating double exposure, and adding text. The good thing is that each edit is not permanent until you make it permanent, so there's a huge space for creativity.
2. Ultralight
Available on iOS and Android | Free (in-app purchases)
Being a good alternative to Lightroom, the apps actively utilized by Instagram bloggers, Ultralight shares a no less rich set of features for both photo and video editing. It becomes one of the best solutions for those willing to make their pictures stand out with deep, a little dimmed colors and soft textures. Even such traditional features and saturation and contrast in Ultralight are more advanced than in any other photo editing app: each of these tools has a variety of controllers a user can utilize to create the desired effect.
Ultralight makes it possible to edit the selected part of the image instead of applying changes to the whole picture. To make it possible, it provides brushes, stamps, etc.
Nevertheless, the best thing about this app is the line of free presets divided into categories. Each preset is created in a way to make a photo look very stylish and professional. Furthermore, each can be customized and then saved in the gallery of filters, so when and if needed, a user can apply the same adjustments to different pictures in a single click.
3. Facetune 2
Available on iOS and Android | Free (in-app purchases)
One of the most addictive apps for editing, Facetune 2, meets all expectations when it comes to the creation of beautiful portraits and selfies. So if you look in the mirror and see one person, and your portrait or selfie look different because of unflattering angles or lighting conditions, Facetune will help you correct that. Furthermore, you can use the app's camera to replace accents for the least attractive features and take a photo that will look great even without edits. Still, the rule is generally the following: if you once try the app's editing tools, you'd probably not deny yourself the pleasure of using this application.
With Facetune, you can clear your skin, whiten teeth, change eye color, remove wrinkles, make plastic surgery to your eyes, lips, nose and chin, apply some makeup, apply filters, change background — anything that will make your photo look pleasing to your eyes. Also, you can use it as an app to take passport photos and then edit them. The best tip here is to pace yourself in order not to create a character that reminds of you but is not you at all.:)
Photo printing apps
If using the applications listed above, sooner or later, you will have a great amount of beautiful, digital pictures. And if you are about to make them real in a traditional way, you will need some printing solution. Photo printing apps we've collected allow you to not just receive printed pictures but also order more interesting products that you can use as a gift.
1. Global Print
Available on iOS and Android | Free
If you are about decorating your interior with posters, pillows with prints, photo multiframes, canvas, or designing some printed gifts for your friends, family, or co-workers, Global Print application is exactly what you need. The app allows a user to choose from a variety of categories of products: seasonal gifts, photos, photo books, calendars, interior elements, magnets, photo souvenirs, etc. The process of product design in the app is created in a way to be easy and highly intuitive, so even if it's the first time you use such an application, this experience will be successful and satisfying.
Photos you choose to place on products can be customized with built-in editors, collage-making tools, and adding text features. Also, the app allows importing photos from your social media, whether it is Instagram, Facebook, VK, Google Photo, etc.
After the product is designed, a user goes through a process of payment with a credit card. It is worthy of saying that the app allows ordering printed goods to the USA and Canada, as well as post-soviet countries within the FotoPost App, also available to both iOS and Android users.
2. Snapfish
Available on iOS and Android | Free
Snapfish is another photo printing app that allows creating custom printed products from the available range. The thing that makes it stand out is the ability to order 100 free 4x6 prints every month (but with paid shipping) for registered users.
Ordered products can be received via mail, picked up in-store at CVS, Walgreens, and Walmart. And the thing to mention here that the app allows urgent prints you can get within an hour. Also, there are wide opportunities for payment: PayPal, Bank, or Credit Card.
3. Shutterfly
Available on iOS and Android | Free
One of the best apps to get photos printed, Shutterfly, stands out from those mentioned above with a wider range of custom products on offer, including those designed for weddings, kids, and pets. For example, the app allows creating printed wedding stationery, bridal party gifts, wedding decor elements, birth announcements, baby shower invitations, baby thank you cards, keepsakes, backpacks, folders, pencil cases, notebooks, bean bags, pet accessories like bandanas, pet tags, and beds. What is more, the application also provides the ability to order unlimited free 4x4 and 4x6 prints and a free 6x6 photo book a month.
Photography app development at Emerline
At Emerline, we really appreciate all the benefits offered by mobile photography and for this reason, we do love investing our professionalism and enthusiasm into the creation of photography applications that really make a difference. Custom photography app development services at our company include everything from the latest UI/UX design practices to important integrations and support services. You can always rely on our expertise and get the mobile app you've always wanted. Need a free consultation on the development of an app for taking pictures, photo editing solution or photo printing app? Feel free to contact us at any time. We' re always here to turn your ideas into reality.